Social media marketing strategy is very important for a successful social media campaign of any business. It comprises of the entire social media marketing plan and objectives of a brand. The social media has become a major part of the marketing strategy of many brands as most marketers have realized that the key to building a successful social media growth depends on solid social media strategy.
A solid social media marketing strategy incorporates establishing marketing objectives, selecting the appropriate network and evaluating the required outcomes. This is our guide on how to create a social media strategy
1. Set Smart and Actionable Goals To Achieve Targeted Results from your social media marketing strategy
First of all, the bottom line for launching a social media campaign should be identified. This could be targeting more social-minded prospects or expanding your share of voice in your industry. Brands need to set goals and objectives in order to be successful. Define if your goals are applicable to your business objectives.
Have you heard about S.M.A.R.T. goals? These goals should be Specific, Measurable, Attainable, Relevant and Timebound. This makes up the SMART goal system that will direct your social media activities and produce targeted results. For instance, you can start from increasing brand awareness, generating new leads, increase conversion rate and so on.
2. Establish an Appropriate Social Media Budget for Your Needs
Creating a practical social media budget is beneficial for your brand. You need to evaluate your current social media status and using your social media goals and objectives, develop a reasonable social media budget that will help achieve them. A realistic social media budget will prevent you from taking impulsive marketing actions that might not produce results. This will also help you evaluate genuine outcomes. The income from a particular advertising source versus the expenditure. Also, the success of your social media strategy is linked to establishing a realistic social media budget. Knowing the amount that can be spent will help you have a better idea of the marketing channels to focus on and improve your marketing ROI.
3. Determine Your Social Media Channels According to Your Objectives
You need to recognize your target audience and the possible social media channel will help you determine the most ideal social media channel to focus on. Your preferred social media channel should be tailored according to your social media objectives. Instagram is the best place to showcase an online store while Facebook or LinkedIn is most ideal for SaaS with the aim of generating leads. You can also evaluate the social media profiles of other competitors and discover what they do.
4. Research Your Target Audience With Social Media Marketing Strategy Analytics
The key to creating the ideal content that will be engaging to your potential audience is to identify their identity. Develop your buyer persona and envisage them as your potential clients who will purchase your products and services which will provide the basis of the content that will meet their needs.
Rather than making unfounded assumptions, employ social media analytics to discover the demography, language of your potential audience and how your current audience interacts with your brand. These metrics will provide insights that are valuable for your social media strategy and improve how you reach your target audience.
5. Analyze Your Own Social Media Performance and Contrast With Competitors
Conduct analysis on your current social media performance and gather useful information on what works and what doesn't, the preferred social network of your audience and the status of your brand in contrast with your competitors on social media.
Also, considering the competitive nature of the social network environment where many competitors are hungry for the attention of more audiences, you might need to pump in the additional budget to stand out. However, it is important to analyze your spend and make sure it is generating considerable results.
How to understand if your marketing goals implemented in the right way?
Analyzing your budget and conducting social media analytics will provide insights into the level of value your audience is getting from your brand, what works and areas that should be refined in your social media strategy.
6. Dig Into the Competitors' Marketing Channels for Inspiration and Mistakes To Avoid
It is very likely that your competitors are also on social media which can be used as a guideline for your social media campaign. Analyzing the marketing channels your competitors are employing will give you an idea of what is expected and should be defined in your social media strategy. It will help identify the marketing channels your competitors are placing less attention to which can create the possibilities for your brand to stand out.
This can be carried out by performing competitive analysis or using a social listening tool like Fammio to monitor mentions that are generated by your competitors' audience on social media.
7. Set Up Your Business Accounts and Improve Existing Accounts
Refine your social media strategy according to the social media network you plan to use. It is important to have a social media objective for every network. This will help you concentrate on a particular objective for every social media account.
After recognizing the social media network that is worth your time, you need to set up your social media profile or improve on existing ones such that it will match your social media objectives.
Ensure that all relevant fields are filled and don't leave out important keywords that are relevant to your brand that your audience might search for.
8. Create Interesting and Unique Content Directed Towards Your Target Market
High-quality content has the ability to get people excited about your brand. The success of your social media marketing strategy is associated with offering your audience interesting and unique content regularly. Unique content is an excellent way of providing your audience the values and what your brand stands for.
The fact is, your content is what will compel your audience to have a relationship, interact and purchase your products and services. Therefore, your content should create a balance in your content to combine interesting and informative terms coupled with a small portion of promotional ads once you identified your audience and what works in your social media campaign once you have an idea of the type of content that will resonate with your audience.
9. Engage Your Audience and Keep Their Attention Directed Towards You
Social media is not only about sharing posts and content, but this is also more about engagement. Research has shown that that level of interaction or engagement generated by a post will determine its reach. Conduct polls, surveys, ask them what they want to see on your products and so on.
Your audience also expects you to interact and respond to them on social media. Engaging with your audience on social media will increase loyalty and create word of mouth for your brand. Additionally, you can discover the desires of your audience and find out ways to improve their experience.
With this connection with your audience, you can develop relationships, empathy, loyalty and most importantly, the ideal product they want.
10. Continue Social Media Planning by Carefully Choosing When to Post
Apart from providing quality content to your audience on social media, it is also very important to share your at the appropriate time for optimum results. You should have in place a content sharing schedule that will contain the dates and time your contents will be published on these networks. Your content sharing schedule will help you monitor all your activities on social media such as blog posts, link, image and video sharing. It contains all your daily posting and the contents shared on your marketing campaigns.
You can predict and plan your post according to different time zones that will generate optimum results. Rather than hoping that your audience will interact with important aspects of your content, you can also plan your posts such that you will end up getting the most from your content and audience.
11. Find Influencers To Spread Your News – They're the Best Tool Available Nowadays
Apart from the cost-effective nature of employing influencers to promote your brand, studies have revealed that the audiences on influencers' profiles are more highly engaging and specific to industry compared to celebrity endorsements which were an earlier form of brand marketing.
Influencers provide a compelling mixture of authenticity to a large fan base and a more personalized story due to the medium it is been distributed.
Influencers, just like other customers integrate the products and services of a brand into their lives which makes any product they promote unique and shareable.
12. Experiment With Your Strategy and Find Ways To Improve on It
There is a possibility that your social media strategy is based on different assumptions from different guidelines provided online that may or may not work for your brand.
Carrying out A/B testing on your social media endeavors can help you discover its effectiveness and performance. For instance, the effectiveness of a tweet containing a photo in contrast with a tweet containing a video.
Regular testing will provide insights into the best strategies that will or will not produce results in your social media strategy and you can use the results from your testing to re-evaluate your strategy accordingly.
13. Run Cross-Promotions on All Your Social Media Accounts at Once
Social promotion is an excellent method of promoting your brand's products and services to a larger fan base to generate additional sales.
You need to develop a clear and compelling social ad that can influence your audience and this should be done as quickly as possible. You can also publish content about the sales generated in the last 24 hours.
Always remember to regularly test your social promotions to discover the offers that are more compelling to your audience. However, don't overdo this. Make sure that your content is more about providing value and benefits to your audience than has an only promotional purpose.
14. Run Social Media Ads To Maximize the Scale of Your Audience
All major social media networks offer advertising features on their platform that can boost sales and the size of followers.
Ads on social media are an excellent method of promoting the product and services to a fresh audience. What content you can share in your ads? There're a lot of ideas available, the most popular are giveaways, e-books, announcements on the webinars or discounts, best deals, and special sales.
15. Support on Social Media Channels – Reply to Your Customers
Social network platforms have made it very easy for brands and customers to interact as most customers are now solving issues on Facebook and Twitter.
Create a standard as a reputable and responsive business by providing support on social media channels. Develop a framework where comments, feedback and questions can be tracked and monitored on social media. Conduct online reputation management and know where people are asking for your help. Additionally, make prompt response to issues and questions and go out of your way to provide value and assistance. Ensure your customers feel heard whenever they provide any criticism and recognize the appropriate time to privately reply public conversations.
16. Use Chatbots Because Automation Will Increase Your Productivity
It's no longer new that chatbots are an excellent tool to improve communication, user experience and resolving issues. Integrating chatbots will allow you to offer a customized user experience naturally.
Chatbots can help guide your audience to your products, help navigate your website and trigger a conversation with visitors on your website and provide help.
Chatbots also have the ability to offer 24/7 customer support and provide a quick response for FAQs, questions and inquiries to your customers.
17. Don't Ignore Keywords and Hashtags in Your Social Media Posts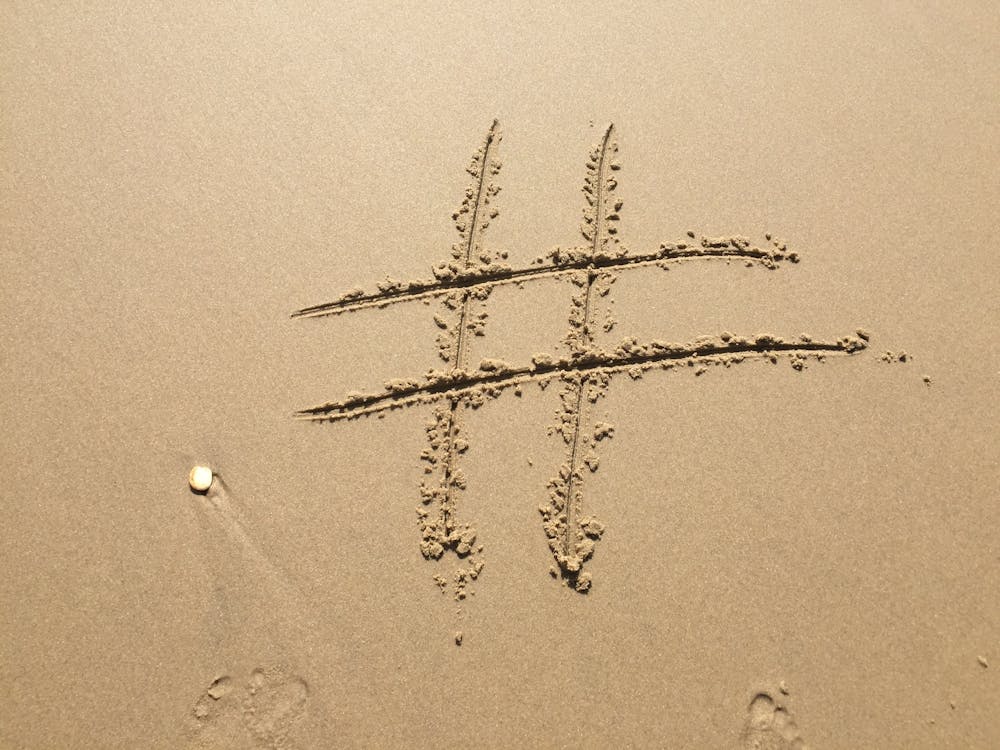 The pound sign on social media plays a very important role in developing an interest in your brand's account on social media. Employing hashtags in your posts will segment your posts on social media. Hashtags also make it possible for users on social networks to find posts that are related to their interests.
Integrating hashtags and keywords will, therefore, make your posts viewable by lots of users and anyone who is not even your follower. Also, employing hashtags and keywords in your posts will increase user engagement by joining conversations of trending posts.
18. Gather All Users Feedback – An Excellent Source of Quality Data
An excellent method of pleasing your customers and keeping them loyal to your brand is to satisfy their needs. One of the methods of providing the best customer experience is by collecting feedback on what they think about your service.
Collecting user feedback is also beneficial when introducing a new product into the market. Feedbacks from users offers insights into the performance of the product or service and how to make improvements.
User feedback can also help measure your customer's level of satisfaction and show your audience how relevant their opinions are. This method is very useful in creating ambassadors for your brand that will help promote word of the mouth.
Therefore, providing the best customer experience for your audience at every touchpoint will make them loyal to your brand. An effective way of doing this is to ask for their opinions about your service and how it can be improved.
Summary
You can concentrate on taking little steps regularly if you find these social media marketing strategies overwhelming. Even with a solid social media marketing plan that promises to be successful, you probably won't be able to implement everything at once.
However, consistent growth on social media with reference to followers and engagement will help promote your brand. Engaged followers ultimately become loyal customers and brand ambassadors which can be achieved by satisfying their needs and developing relationships.